Weddings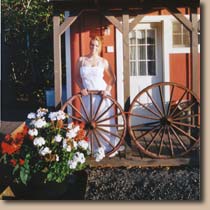 Weddings
Have a memorable wedding day…imagine the bride in white riding in on a black horse.
For a memorable wedding day, we hope you will think of Old McDonald's Farm, Inc. Nestled among 68 acres of native forest, raspberry fields and a trickling stream located in the Columbia River Gorge area. Our picturesque Farm is ideal for your special, rustic wedding.
The Farm's amenities include a beautiful outdoor fire pit with seating for about 60 people, restroom facilities, a school-house to change clothes in or it has a refrigerator and a sink for the caterer, a garden, shade any time of day and lots of green space. We are conveniently located just 25 minutes to downtown Portland.
When choosing Old McDonald's Farm, Inc. for your special day, you will also be supporting a local non-profit organization dedicated to providing children in the Portland metropolitan area healthy life experiences utilizing animals, agriculture gardens and natural resources as educational tools.
Other opportunities include: horse rides, hayrides, a bar-be-que in our fire pit as mentioned and petting the animals. Also, u-pick seasonal berries may be available. Likely, seasonal vegetables and hand-made items are available in our Farm Store too.
Please give us a call at 503/695-3316 or send an email with inquiries to omf@oldmcdonaldsfarm.org.