Here is what folks are saying about Old McDonald's Farm, Inc. programs…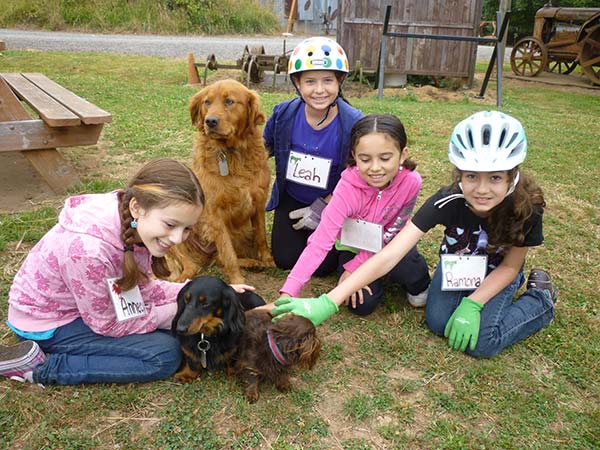 The girls are super excited as always. We are so glad that you keep OMF going because it is an absolute "Must" for their summer." Mother of a young lady that has been coming for more than six years.
—Parent
---
"…I really just wanted to say a big thank you for giving Maggie (name changed) the opportunity this last summer to help you. She was completely in her element and enjoyed every minute. As a mom of a teenage girl who is trying to find her passion in this world – I just wanted to say a heartfelt thank you for being part of that. I think what you do out there for kids and animals is awesome!!"
— Parent of a 16-year old girl
---
"Thanks for letting me come to your farm. I had a great time. I'm coming back next year. I had fun."
— 8-year old Student
---
"Thanks for a great week (for my son)! Keep up the great work!"
— Parent
---
"The education of your camp helps with exposing them to reading and writing over the summer."
— Parent
---
"You are a great teacher… You were really fun and kind."
— Parent
---
"It is a carefully planned out day, I especially like the sharing and journaling time."
— 10 Year old Student
---
"I think that she can really do what it takes to take care of an animal and not be afraid."
— Parent
---
"Her enthusiasm was extraordinary. She offered daily moment-by-moment recollections each evening-content made an impression. Structure seemed well thought out and organized."
— Parent
---
"Expectations were very clear, well organized day, good mix of work and thinking and quiet time."
— Parent
---
"He felt confident about what he learned, he had a great time."
— Parent
---
"Learning the science knowledge was great."
— Parent
---
"She was very happy to get up and going in the morning."
— 9 Year old Student
---
"He came home dirty, tired and happy. He was so excited to tell us all about his day. He loved it."
— Parent
---
"He feels proud of his new skills, knowledge and abilities. He gained more self confidence and poise, he is proud of himself."
— Parent
---
"He has a better respect for animals and nature and is more excited about them."
— Parent
---
"Her confidence increased by wider life experiences, other than in a contained urban area."
— Parent
---
We just wanted to say thank you so much! Our daughter… had the time of her life and enjoyed every minute of her farm duties and interactions with the farm animals. Your assistant, I apologize for not remembering her name, did an outstanding job of teaching and guiding us on our tour! Please tell her thank you for us.
—Parent
---
She really has enjoyed her time volunteering for you (at OMF, Inc.) and you are exactly the kind of mentor she needs. She told me once that she was a little afraid of you. But when I probed, what she said is that she was afraid of disappointing you because you have high expectations. I almost danced a jig in happiness. I would love to see her have a long term relationship with you and the farm. I hope that remains an option in the future. I meant my story about (my daughter's) reaction to you to be 100% a compliment…
Parent of a 14yr old
---
"I want to thank you for the amazing experience both our kids had this summer at the farm. They took the responsibility you gave very seriously (for the animals, the other kids, etc., depending on the child) and were proud when they rose to the occasion. I know how much work it is to do what you do, and I want you to know what a difference you made for both boys. You helped them grow so much! I'm proud of them and grateful to you."
— Parent of a 10-year old and of a 13-year old
---