Santa Day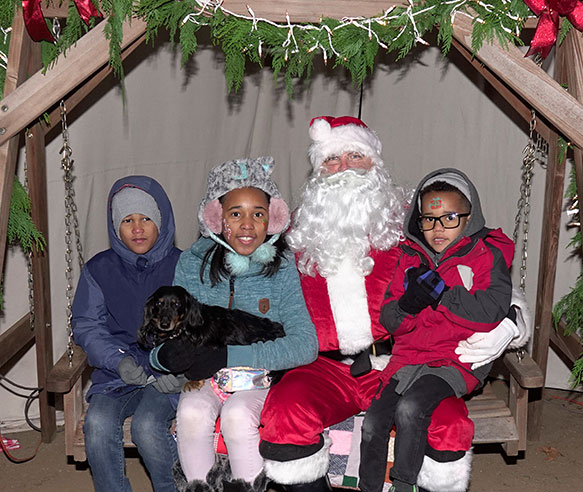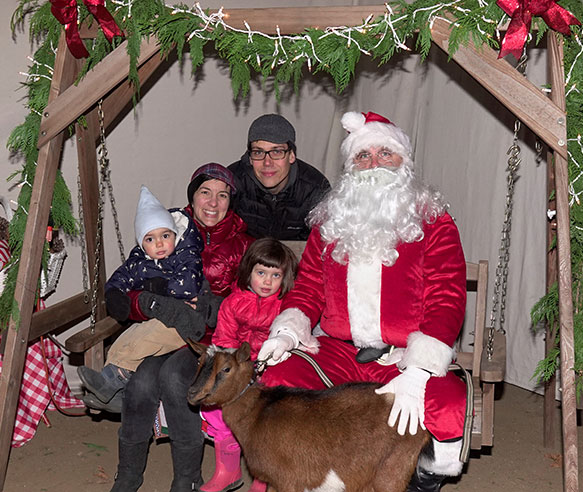 Join us the first Saturday in December!
Come see our educational, Farm Program for children in Corbett. We are located just a mile off the Historic Columbia River Highway that is about 25 miles east of downtown Portland. Enjoy the beautiful drive and our amazing Farm Program for children and youth. See our "teachers," our horses, cow, goats, sheep, pig, geese, rabbits, ducks, chickens, dogs and cats too!
Sip Hot Chocolate, warm yourself by the outdoor, beautifully covered fire, listen to Christmas music, shop in our Farm Store, buy a wreath, sample a Christmas cookie and get your picture taken with Santa. This event happens rain or shine…come join us, we have lots of covered spaces to get out of the weather.
To separate folks out, we please need to schedule families every 10 minutes and the cost is $12 per person entrance please. Babies one and younger are free. The extra opportunities for using cash are shopping in our Farm Store, purchasing a wreath and getting that perfect picture with Santa. Hot drinks, cookies, seeing the animals, enjoying the lovely fire and seeing our beautiful Farm Program for children are all free and included in your entrance fee.
Get a picture with Santa by a professional photographer for $10 each shot. (Please bring cash, it is easier.) You are welcome to include one of our small animals with Santa and your family. Choose from one of our six dogs, a chicken or a rabbit.
Sorry, absolutely no other pets allowed please!!! No service animals either please. You do not know how your dog or pet will react to one of our dogs, chickens or rabbits. Please do not bring other animals; it is unsafe! Also, we are exempt from welcoming service animals under the "Zoo clause." Thanks for your understanding on this important issue!
Please bring cash, it is easier and faster for you, $10s would be great. Come support our small non-profit children's program by joining us at our Santa Day event and get into the Christmas spirit with us. We hope to see you.
Click here to sign up for the Santa Day event at Old McDonald's Farm, Inc.
First come, first served with the available times slots. Please note that we do not offer refunds. If you cannot join us, let us know in advance. Please call 503.695-3316 land-line phone (no texts) on the day of the event. We could open the time slot up to another family if you cannot join us so, please let us know as soon in advance as possible. If you know at least a day or more before, please email us at omf@OldMcDonaldsFarm.org. If you did not join us, after the event please send an email to omf@OldMcDonaldsFarm.org with your complete address so we can send you a tax-deductible receipt for the funds that you paid. Sorry, no refunds please. We need these funds from this fund raising event to feed our Farm Program animals this winter. Email us with questions please. On the day of, call. We thank you.