Senior Connect Program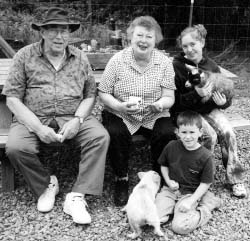 Senior Connect Program
Proceeds from the Senior Connect Program to benefit the
Children's Programs at Old McDonald's Farm, Inc.
A Unique Opportunity…..
Hey Seniors! Would you like to enjoy the outdoors on a rural raspberry farm situated in Corbett? The farm is an easy drive from Portland or Gresham. Come and meet our farm animals and enjoy a great afternoon at Old McDonald's Farm, Inc.
Upon your arrival, you will first gather in the School House for an orientation to Old McDonald's Farm, Inc. At that time, you will have a chance to pick up brochures about the educational programs we offer. Then you can head out to see the animals, garden and facilities. The Farm is handicap accessible. If you have difficulty getting around, however, we can lead or bring the animals to you. Lastly, enjoy a cup of hot chocolate or tea during question and answer time before you leave.
How about a further opportunity? Would you like to help enrich the life of a child?
Mentoring a child is a great way to positively influence his or her life! If this sounds interesting to you, please ask us for additional information.