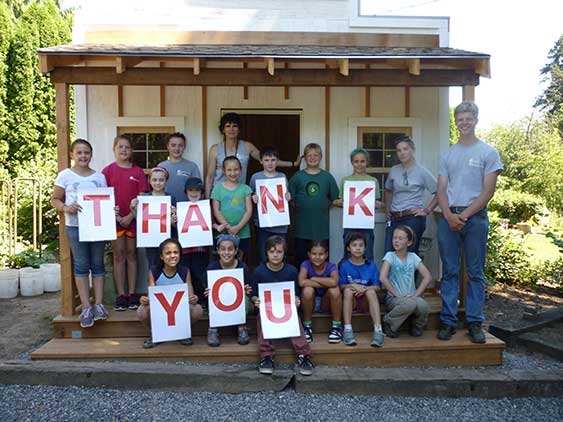 Donations
Old McDonald's Farm, Inc. would be thrilled to accept your monetary or in-kind contributions. Cash contributions to scholarship low-income, at-risk children are always needed. These kids need our educational opportunities the most. In-kind items such as children's rain gear, crayons, pens, poster boards, halters and leads for sheep and horses, saddles and bridals, et cetera are needed also. Your donation to OMF is tax-deductible as we are a 501(c)(3) children's charitable organization.
You can donate through our website if you wish.
Board of Directors for Old McDonald's Farm, Inc.
Danielle Derrick, MBA, Board Chair-Treasurer
Jennifer Johnson, MAT, Board Secretary
Sylvie Johnson, Board Member
Sarah Schneider, M.ED, Board Member
Brian Wilkerson, MS, Board Member
Carly Winter, MS, Board Member
Stephanie Rickert, MAT, Board Member and Executive Director
Volunteers- Jonathan Bailey, Amy Hall
Our Supporters
Old McDonald's Farm, Inc. would like to extend a hearty "thank you" to the following organizations who have donated money and/or resources to build our program:
Foundations:
Juan Young Charitable Trust
Collins Foundation
Harrison Family Trust
Templeton Foundation
Rose E. Tucker Charitable Trust
The Blanche Fischer Foundation
East Portland Rotary Foundation
Leotta Gordon Foundation
Organizations:
Springdale Job Corps
Gresham Breakfast Lion's Club
Roseway Lions Club
Portland Rotary Club
Junior League of Portland
Rotary Club of Gresham
Willamette Carpenter Training Center
Cement Masons Local 555
Timber Lake Job Corps
Pacific Northwest Council of Carpenters
Plasterers Union Local 82
Construction & Gen. Laborers Local 320
UBC Local 1388
Businesses:
Wieden & Kennedy, Inc.
Office of John Lape, Architect
Clackamas County Bank
Gresham Sand & Gravel Company
Sedgwick of Oregon
Synopsys Logic Modeling, Inc.
Payless ShoeSource
Sanderson Safety Supply
JRE Consulting, Inc.
Northwest Printing Company
Lewis Rents
Waste Management of Oregon
Les Schwaab Tire Company
Weston Pontiac-Buick-GMC
Power Rents
Schulz-Clearwater Sanitation
Farmer's Insurance
Speed's Towing
Zidell Marine Corporation
Emporium, Inc.
THRIVE Creative
Livestock/Agri-Suppliers
:
Bergh Machinery Company
Bums Feed Store
Multnomah County Farm Bureau
McDaniel Seed Company
Scamp's Pet Centers
Paws & Claws Veterinary Clinic
United Horticulture Supply
Government Agencies:
U.S. Marine Corps Reserves
U.S. Navy Reserves
Oregon Army National Guard
Construction Suppliers:
Cascade Steel Rolling Mills
Park Place Wood Products, Inc.
Interwest Insulation
Versatile Sash & Woodworking
Miller Paint Company
Toombs Sand & Gravel
Edelen Doors & Windows
Oregon Wire Products
Supply One
Clackamas Sears
Aphis Readymix & Concrete
Builders Square
Camp's Lumber
Troutdale Sand & Gravel
Parr Lumber
Superior Fence & Construction
Platt Electric
United Pipe & Supply
Schnitzer Steel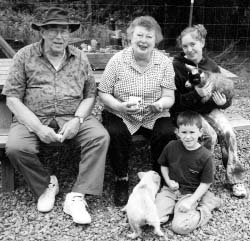 Senior Connect Program
Proceeds from the Senior Connect Program to benefit the
Children's Programs at Old McDonald's Farm, Inc.
A Unique Opportunity…..
Hey Seniors! Would you like to enjoy the outdoors on a rural raspberry farm situated in Corbett? The farm is an easy drive from Portland or Gresham. Come and meet our farm animals and enjoy a great afternoon at Old McDonald's Farm, Inc.
Upon your arrival, you will first gather in the School House for an orientation to Old McDonald's Farm, Inc. At that time, you will have a chance to pick up brochures about the educational programs we offer. Then you can head out to see the animals, garden and facilities. The Farm is handicap accessible. If you have difficulty getting around, however, we can lead or bring the animals to you. Lastly, enjoy a cup of hot chocolate or tea during question and answer time before you leave.
How about a further opportunity? Would you like to help enrich the life of a child?
Mentoring a child is a great way to positively influence his or her life! If this sounds interesting to you, please ask us for additional information.
Other Volunteer Opportunities
Old McDonald's Farm, Inc. (OMF) is a nonprofit, charitable organization providing hands-on, educational experiences in a therapeutic farm setting. We offer our services to benefit all children in the Portland/Vancouver metropolitan area.
Our mission: In facilitating healthy social and emotional development, OMF is committed to providing at-risk protective factors to children through structured, educational experiences using animals, agriculture, gardens and natural resources.
Below is a description of three different ways you can volunteer with OMF. An orientation and training will be provided for all of the positions listed. Please call Stephanie Rickert 503/695-3316 today for more information!
Job # 1: Intern/Executive Assistant
Whether you want job skills, school credits or just want to get involved in a productive way, you are needed at OMF. We offer people from a variety of disciplines (Business, Marketing, Education, Communications, Sociology, Psychology, etc.) a unique learning environment. Learn to manage a nonprofit organization. Learn to market and promote a business through media exposure, direct contact, public speaking, distribution of a newsletter, et cetera. Learn how to do books of account. Learn to motivate and empower people through volunteer coordinating. Learn human service skills by working directly with children, youth and adults. In addition, we utilize curriculum and lesson/activity plans to educate children and so OMF would be of particular interest to teachers as well. OMF offers much variety. At the same time, we can tailor this volunteer opportunity to your area of interest, credits needed and/or specific job skills wanted. All this and you can wear jeans too!
Skills: Be very organized, have 110% follow-through, have a professional manor, have good writing skills, be creative, be resourceful, prefer experience working with children and web and computer experience.
Hours: Flexible work schedules are available. We are open Tuesdays through Fridays and one to two Saturdays per month. (In the summer, we are open Monday-Friday and we occasionally work Saturdays as well.)
Job # 2: Site Improvement Volunteer
Job Duties
: Build fences, light carpentry work, paint, plant trees, general maintenance and farm clean up, work with animals, plant, cultivate, weed or harvest the garden, et cetera.
Skills: Be a hard worker, self motivated, organized and resourceful.
Hours: Work hours can be flexible. Either ongoing projects or one-time project is fine.
Job # 3: Children's Volunteer
Job Duties
: Implement curriculum, give safety orientations, give "meet the animals" and site tours, develop and implement children's projects. Must be 18 years or older and have an extensive background check conducted.
Skills: Have and exude a great attitude, be eager and willing to work with kids, be a hard worker and organized, have 110% follow-through, and be resourceful. Prefer experience working with children.
Hours: Flexible work schedules are available.
---