Special Programs at OMF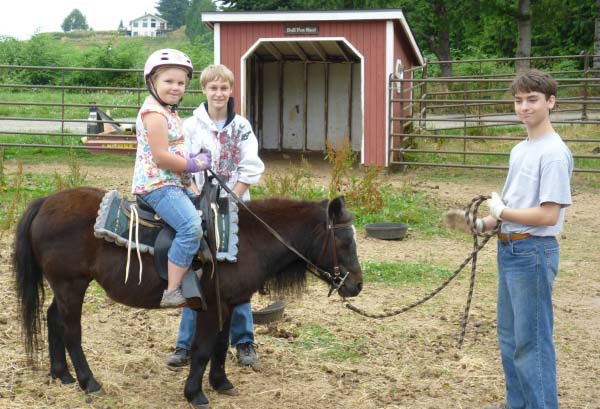 Special Programs at OMF
Old McDonald's Farm, Inc. (OMF) OMF was developed out the passion of several people who knew that children and adults, if presented with the challenges and healthy life opportunities on a farm, would learn to be compassionate and capable "can do" people.
We look forward to providing a unique, educational experience. Please call us today at 503/695-3316.
What Are Special Programs?
This program gives us an opportunity to be flexible and to serve students and adults with special needs. We will work with the district or agency to develop a Farm Education Plan for each student, adult or small group. We will also provide feedback and documentation to show the progress made on their behavioral, academic or vocational goals throughout their time at OMF. Special Programs allow agencies, parents and students the chance to plan, develop and execute individual or group projects with the support of OMF staff. As an example, we serve two adults through Multnomah County Developmental Disabilities Service. Plus, at the request of Multnomah Educational Service District (ESD), high school students of the Functional Living Skills class from Reynolds, Gresham-Barlow, Centennial and Corbett School Districts come twice per week to participate in structured, educational activities to receive vocational training and learn good, life skills. Multnomah ESD has also asked us to teach TAG (Talented and Gifted) classes for students from Centennial, Parkrose and Corbett Districts. In addition, we have worked weekly with a child and a mentor through Services to Families and Children. The possibilities for Special Programs abound.
How Can I Get A Child/Adult Involved:
Call today to do a site visit of the farm. There is no better way to tell our story than for you to come and see our educational farm site for yourself.
What Is The Cost:
The cost for implementing the Special Program is different for each person and ranges from $16 to $26 per hour. The price depends on factors such as: will there be another agency staff person assisting; numbers of students served at one time; what are the academic and/or behavioral goals; is the client a self-directed learner or do they need constant supervision; length of program each day and how many days per week; et cetera. We do not serve students or adults on a "drop-off" basis. A safe, structured, educational program will be put in place for a minimum of three months and for a designated time period so we may positively impact people's lives.