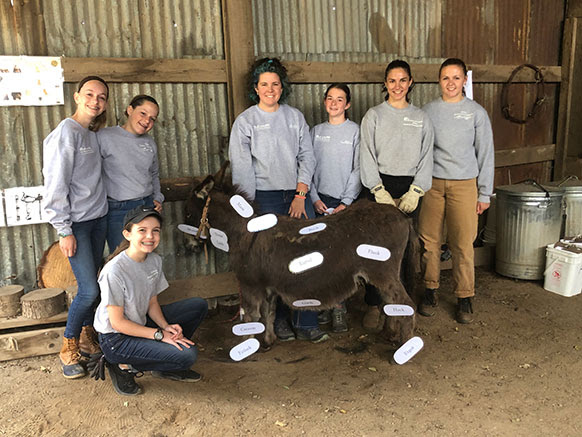 For the Summer Program (or the other week-long programs) former students can have the opportunity to build leadership skills as a Student Summer Helper (SSH) or a Student Camp Counselor (SCC) and they are in essence, a manager-in-training.  If you are interested in one of these limited number of positions, we will please need the SSH/SCC contract.  Students will need to order a special "gray shirt" with their name and title also. Please see the contract for how to order. Please click on both at the bottom of this page.
The cost to be a Student Summer Helper (SSH is an alumni student 12-13 years old) is $140 per Summer Program session or Jr. Vet. Program (Week).
The cost for a Summer Camp Counselor (SCC is an alumni student 14- 16 years old) is $80 per Summer Program session or Jr. Vet. Program (Week).
For helpful, alumni students that are 16 and over a position with a paid stipend may be available. Please contact us.
SSH & SCC and their parents will need to fill out and sign a contract.
All SSH/SCC and their parents will need to complete:
You must be a past participant at OMF to qualify for this program.
Important Note
Gray "T" shirts with title and student's first name are required for SSH and SCC. Our staff gray shirts are $20 each and sweatshirts are $30 each. If you do not have a shirt then please let us know when you contact us.
We recommend at least two shirts so one can be worn while the other is in the wash and one sweatshirt as the mornings are usually chilly out in Corbett. Students will get dirty while out at OMF but must come to OMF clean and tidy to start each day. Sweatshirts are not required but recommended.
Shirts can only be ordered up to two weeks prior to the start of the first Summer Program session of that year.
Register Child for Student Summer Helper (12-13 yrs old)  Register Child for Student Camp Counselor (14-16 yrs old)
---