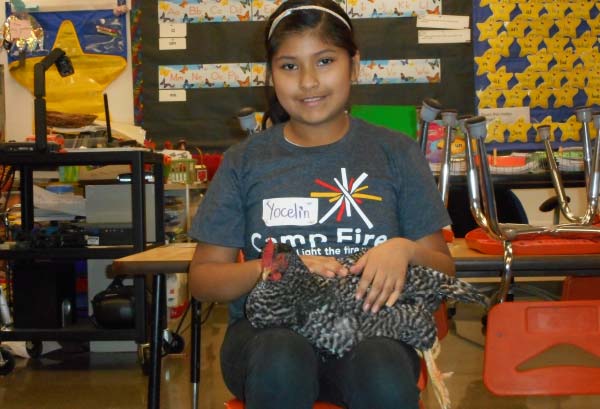 Farm on the Go
The Farm On The Go Program can be taught as a one time event or we have taught it over two months every week as an after-school program through our partnership with the Saturday Academy. Subjects are always animal and agriculture related with academic and behavioral goals in place along with expected outcomes. We would be happy to design a specific program that will meet your educational goals as well as we are always working towards positive life skills as a secondary goal. The animals are wonderful motivators for students to get excited to learn.
Some of the topics have included fiber arts, birds and their eggs, dairy day, etc. Please email us at omf@oldmcdonaldsfarm.org or give us a call 503/695.3316 to let us know what we might do to meet your student's needs. We thank you for your interest!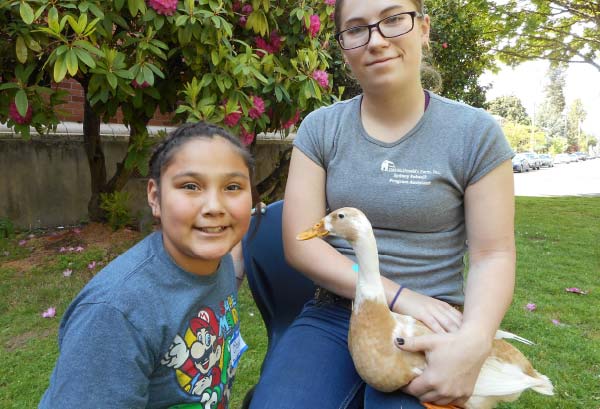 Old McDonald's Farm, Inc. and the Saturday Academy
We at Old McDonald's Farm, Inc. (OMF) are excited to collaborate with the Saturday Academy (in affiliation with the University of Portland) to bring amazing, educational opportunities to children in our community. The Saturday Academy offers classes and camps for about 6,000 students in the Portland metropolitan area each year. We are among good company in teaching children along with O.M.S.I., Tektronix, P.S.U., and The Oregon Zoo just to name a few.
To contact the Saturday Academy for a program taught by Old McDonald's Farm, Inc. in collaboration with the Saturday Academy, please post to 5000 N. Willamette Blvd., Portland, Oregon 97203, or call 503/200-5858. Their web site is www.saturdayacademy.org or write to info@saturdayacademy.org.
For our own OMF classes such as the Day Visit Program, The Summer Program, the Junior Vet. Equine Program, the Farmer-For-A-Day Program, the Farm On The Go Program, Special Programs or horse riding lessons and hay rides, or our special events, then please see this website or send us an email omf@oldmcdonaldsfarm.org.
Thanks and hope to see you soon!
---