Pumpkin Pick at OMF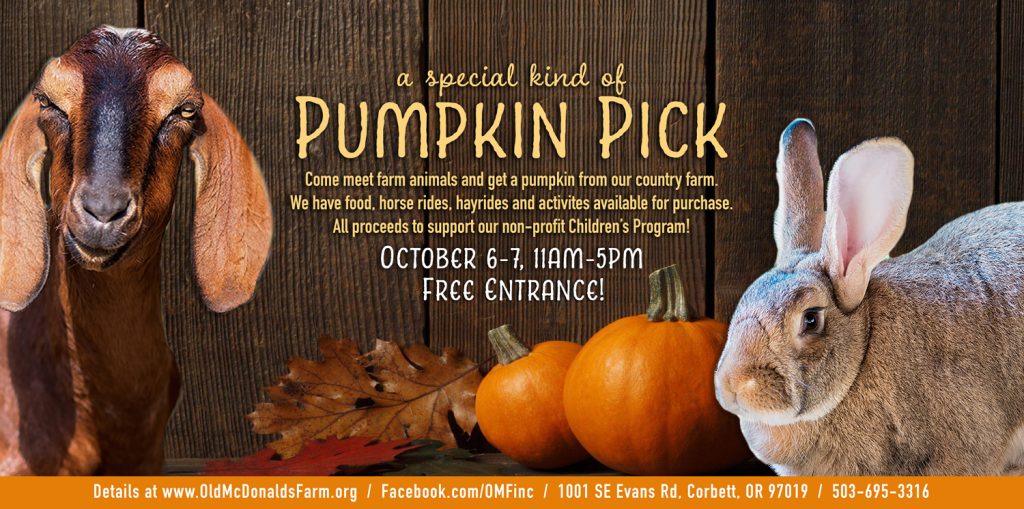 Pumpkin Pick at OMF, Inc.
October 6 & 7 from 11:00am to 5:00pm
Come enjoy our beautiful farm and meet the farm animals!
This is a wonderful family event unlike any of the other giant pumpkin patches in the area! In this beautiful farm setting, your child will meet 35 animals and pick from a variety of homegrown pumpkins to choose. Some of our pumpkins were grown by a former, Special Needs student of ours.
Feel free to enjoy our fun activities like:
Petting our "teaching tools, " our farm animals, enjoying the farm and the fire pit, making bubbles, corn grinding, coloring, line dancing (hopefully), live music (hopefully), etc.
This is a fundraiser for our nonprofit children's program though so please spend generously at our Farm Store too. We have shirts, coloring books and lots of crafty items too.

Tentative Activities:
Horse rides
Hay Rides
Apple Flinging (into the ravine)
Hot Dogs
Hot Chocolate
Roasted Marshmallows
This is our last event of the season, so don't miss this one weekend!
Please RSVP on Facebook for our Pumpkin Pick so we have an idea of how many volunteers and how much food we will need.
Please click here for directions.
We hope to see you out at our farm!