Open Houses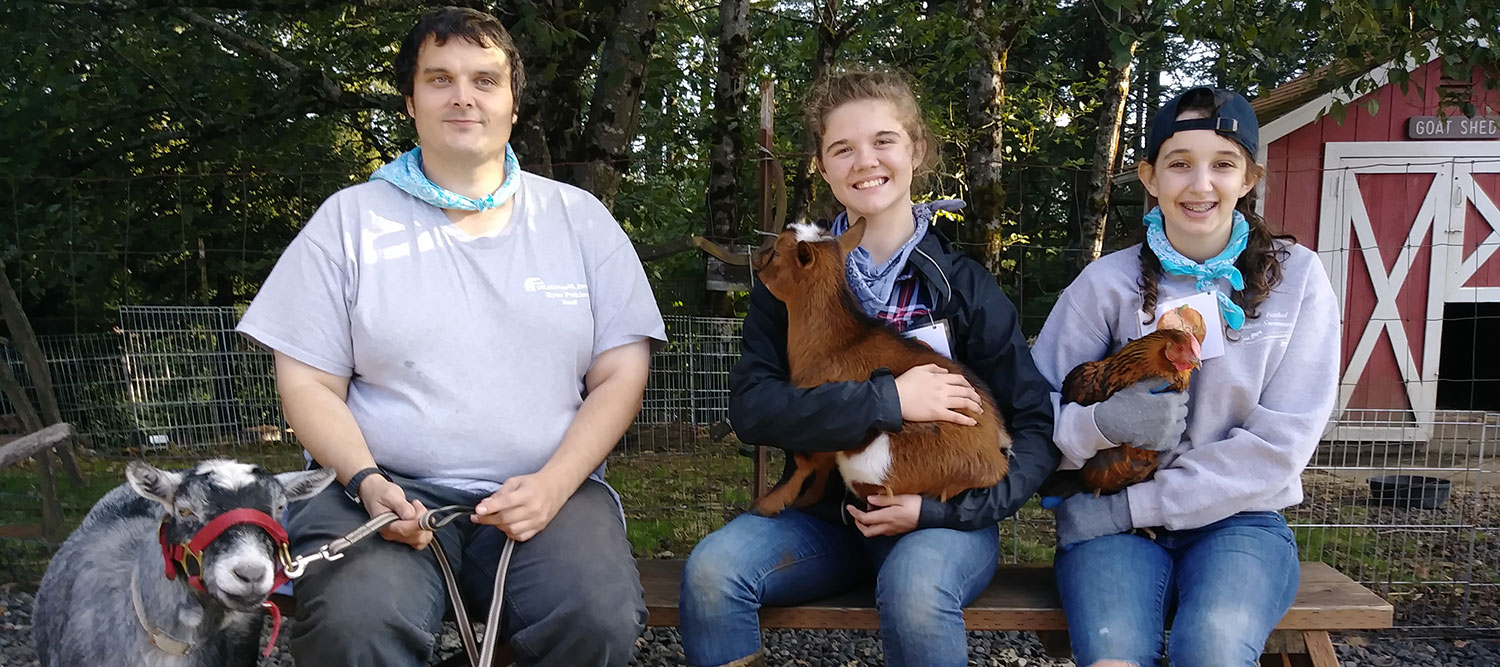 Come Join Us During One or All!
You and your family are most welcome to join us for the Open Houses at Old McDonald's Farm, Inc. (a non-profit, children's program).   See our beautiful, educational Farm Program for children and youth.  Make the 25-minute drive from downtown Portland along the Columbia River Gorge in Corbett.  Spring and summer are spectacular out at OMF, Inc.
Come on out and see our 30+ Farm Program animals including horses, miniature donkeys, cow, goats, sheep, pig, geese, ducks, chickens, cats and plenty of farm dogs too.  Once you see our Farm Program, you will love it!  You can sign up for one of our Day Visit Programs, Week-Long Summer Programs or Jr. Vet. Week, and spend the night with our Farmer For A Day Program.
Click on the Education Button from the top of our Home Page and see the programs that we offer children, youth and families.
In order to have smaller groups out and spread out over time, we are offering two Open Houses this season.  (We are open by appointment only please; please do not just show up.) We will make appointments on the top of the hour, beginning at 10:00 a.m. and every 10 minutes (so 10:00, 10:10, 10:20, 10:30 and so on).  It will be easy for families to space out; we have lots of acreage.
Join us rain or shine.  If it is raining, we will have warming fires going.  Layer up!
CLICK HERE TO REGISTER!:
As a non-profit, children's charity that has been hit financially hard of late, we are asking for $20 per carload of folks.  (That is $20 per group in one single car, not $20 per person.)  Please make a commitment by giving a financial commitment to our non-profit.
First come, first served with the available times slots.  We do not offer refunds.  If you cannot join us, let us know in advance.  Please call 503.695-3316 land-line phone (no texts).  We could open the time slot up to another family if you cannot join us so please let us know as soon in advance as possible.  If you did not join us, after the event please send an email to omf@OldMcDonaldsFarm.org with your address please and we can send you a tax-deductible receipt for the $20.  Sorry, we cannot send refunds!
We hope to see you for one of these Open Houses at Old McDonald's Farm, Inc. and for an educational, enriching program class for your student.